Member of: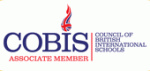 COBIS (Council of British International Schools) is the body that represents quality British schools all over the world and is a member of the Independent School Council in England. A school can become a COBIS member after passing an exam from the British School overseas.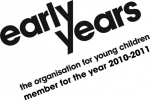 "First Years" is the largest organization in Northern Ireland that has been a militating force for children's rights to high standard care and education since 1965. We were delighted to have 3 "First Year" specialists speak to us during the Acorns seminar of May 2011.

This association represents a voluntary-based organization that is the national leader when it comes to early education, both for those in the field, as well as for parents, with members and chapters all over Great Britain. The association promotes the right of every child to benefit from education of the best quality.

NLT is a non-profit organization that supports and promotes literacy for those working with children and parents. NLT campaigns promote the improvement of the public's understanding of the importance of literacy.

Awarded:

The Investors in People Club is the community of those who invest in people.
Joining this community means joining the ranks of organizations that aim for the continuous growth of performance, for an international reputation and for doing business responsibly, with a positive impact on employees and the community.

Every Child Matters Standards Award is based on one of the most important initiatives from UK. The main aims of Every Child Matters are for every child, whatever their background or circumstances, to have the support they need to stay safe, be healthy, enjoy and achieve, make a positive contribution and achieve economic well-being. In order to gain this award, settings must fulfill 12 standards and undergo an inspection by UK based experts.